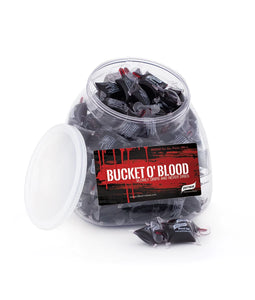 These small, single use packs of Blood Gel are perfect for a quick squirt of blood. The ever-popular Blood Gel is a deep red, glycerin-based fake blood that never dries. It gives the realistic look of oozing, wet, thick blood. Makeup artists know that blood is a great final touch to realistic effects makeup. Blood gel packs such as these are a great way to to keep some blood in your case without worrying about leaky bottles. This easy to use and inexpensive item is one that any Halloween enthusiast would be happy to receive! It even washes out with soap and water.

Tip:Buy them individually or the full Bucket 'O Blood, to have 144 packs at your fingertips. This is a great point-of-sale item for a store or an easy way for a haunted house to keep fresh blood on hand throughout an entire scary night. What more could you bloody well ask for?

Due to the variance in the display of colors across different monitor types, color swatches may not be an exact match to the actual product. Use for reference only.