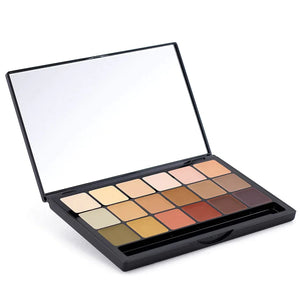 Flawless looking skin and high cheekbones...on practically ANY skin tone
Makeup artists today work with a wider range of skin tones than ever before. They may find themselves fumbling through their kit, looking through palette after palette for the perfect color correction shade. NOT ANYMORE! With the 18 shade Glamour Crème™ Global Corrector super palette, you can color-correct, highlight and contour practically ANY skin tone. Developed with the assistance of makeup artist and educator Kevin James Bennett, this palette is everything you need to correct dark circles, conceal blemishes, and contour the face. These carefully selected correct and contour shades are also perfect for adjusting the tone of virtually any shade of Glamour Crème™. As they are made with same Glamour Crème base, they blend seamlessly. For the makeup artist with diverse clientele, the Glamour Crème Global Corrector is a must have.
How to use: 
Refer to the color wheel when doing corrective work. Colors directly opposite each other in the color spectrum, such as red and green or blue and orange, when combined in the right proportions, will effectively cancel each other out and make a color close to a skin shade. This makes the discoloration much easier to cover with a light layer of foundation. Lightly cover the discolored area with the appropriate color correction shade and set lightly with powder. The area may now be covered with foundation.
Ultra HD Global Corrector Shades and Corrective Color Uses:
The Glamour Crème Global Corrector palette contains the colors: Lady Fair, Yellow Highlight, Sunrise Flush, Extra Highlight, Pink Highlight, Soft Orange, Muted Green, Red Neutralizer, Soft Orange Neutral II, Deep Red Neutralizer, Evening Mist, Soft Wisp, Deep Muted Green, Caramel, Deep Golden Highlight, Burnt Orange, Hazelnut, Hidden Magic.
Uses for fair shade corrector colors:
Soft orange: Neutralizes or cancels bluish grey, or purplish tones, and great for use on darker discolorations under the eyes. It's great to use for hyperpigmentation and sun damaged areas.

Yellow Highlight: Neutralizes or cancels mild stubborn redness or rosy areas, light bluish purple tones, and tones out brownish areas. It's perfect to use on very light skin tones.

Muted Green: Neutralizes or cancels a range of redness, such as rosacea, minor surface burns, skin blotches, blemishes, etc.

Pink Highlight: Counteracts sallowness or unwanted green, yellow, grey and brown tones; it can also brighten up dull or ashy beige tones in skin, especially in fair to light complexions.

Extra Highlight: A great highlight or accent and a perfect concealer for very light skin tones.
Uses for deep shade corrector colors:
Red Neutralizer: Neutralizes or cancels red discolorations such as rashes, rosacea, and minor burns.

Soft Orange Neutral II: Neutralizes or cancels bluish tones and slight purple tones, such as those seen around the eyes. It also counteracts ashy or gray tones.

Deep Red Neutralizer: Neutralizes or cancels stronger redness discolorations or surface redness in darker skin tones. Also counteracts green, ashy, or grey tones.

Burnt Orange: Great for canceling darker blue, bluish purple or purplish black tones, such as those in tattoos, dark circled eyes, etc. Can also counteract dull ashy brown tones.

Deep Muted Green: Can be mixed into other colors to tone them or used to mute stronger redness in various discolorations.
Due to the variance in the display of colors across different monitor types, color swatches may not be an exact match to the actual product. Use for reference only.