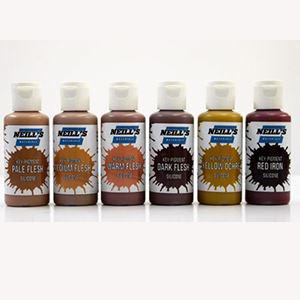 Created by Neill Gorton this lifelike color system comprises highly concentrated silicone pigments in custom colors that go a very long way. They will save you both time and money and help maintain perfect continuity across color batches.
Neill originally developed these for Millennium FX to use in their prosthetics and their retail division MFX Warehouse's range of ready-made appliances. The four colors have been established by trial and error over the years as the ideal starting point for the majority of prosthetics, and nine times out of ten one of them will work perfectly as the base tone. If it isn't close enough however, he's added two 'adjuster' colors – red iron oxide and yellow ochre, that will usually allow you to easily tweak one of the four base tones to match most skin types.
Neill says…
"From running thousands of prosthetic pieces over the years I have refined my pigments to these four standard colors which suit the vast majority of skin tones. Even if one of these is not an exact match, it will take only the slightest adjustment to make a perfect match.
Having been unhappy with the off-the-shelf products out there for use as base flesh tones, I mixed these colors myself and have been using them in all my work since. All our ready-made prosthetics at MFX Warehouse are produced in these colors and the majority of the prosthetics we make in that range can be made with one of the colors with no need for adjustment.
Along with the four flesh tones are two adjuster colors, a yellow ochre and red iron oxide. This basic system means you can produce perfect flesh tones for prosthetics and dummy body parts and they can also be used in conjunction with direct applied silicone products such as Skin Imitator, to tint them to the desired color.