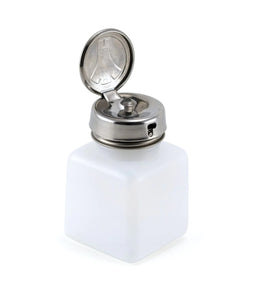 The 4 oz. Menda™ Pump Dispenser allows you to completely clean your brushes, always with fresh cleaner. By pooling the perfect amount of brush cleaner at the top of the pump, while keeping the rest of your cleansing solution free of contaminants, you never have to worry about trying to clean your brushes with dirty fluid. The Menda™ pump locks to prevent leaks during travel. This device also keeps your brush cleaner contained and safe from spills while you are working. Ever knock over your container of cleaner or sanitizer during the rush of face painting or some other event? Don't worry about that any more! Your brush cleaner will always be protected from accidents. The locking mechanism on the Menda™ Pump even keeps your brush cleaner secure while traveling. 
To Use: Twist the top to unlock and press repeatedly to pump clean fluid into the bowl. Clean your brush, discard the used fluid and refill the fluid bowl. Lock the top back in place to seal the clean fluid inside, and you are ready to travel.

Tip: The Menda™ Pump works best with small to medium size brushes.