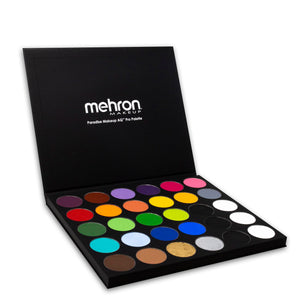 Our world-renowned Paradise Makeup AQ
 face and body paint in a Magnetic 30 Color Pro Palette.  Paradise is a water activated formula that is rich in color, but easy to blend. The magnetic palette lets you refill, rearrange, and customize the palette of your dreams! Encased in sleek, black, matte-finish palette with magnetic closure to secure your paints.

How to use this product:
Paradise Makeup AQ
 is activated with a small amount of water. Some colors require a little more water, some a little less. Moisten the sponge or brush and work the surface of the cake into a rich spreadable cream or desired consistency and apply.

Use Barrier Spray
 before application to prevent staining and/or on top of your finished makeup make the formula long-wear and water resistant. Remove with soap and water.