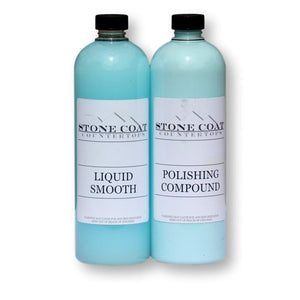 Stone Coat's Polish and Cleaning Kit
Included:
1 - 16 oz. bottle of Stone Coat Polishing Compound
1 - 16 oz. spray bottle of Stone Coat Liquid Smooth finishing cleaner
Liquid Smooth is our top choice finishing cleaner for all epoxy projects. It's compatible with Stone Coat Countertop Epoxy, Art Coat, Casting Epoxies, and our Ultimate Top Coat. Not only does Liquid Smooth leave your countertops or shower walls smelling fresh, it also provides a long-lasting, smooth clean. After cleaning your epoxy project with warm dish soap using a microfiber rag or blue-backed Scotch-Brite sponge, simply mist the surface with Liquid Smooth and wipe it off with a microfiber rag. By incorporating this finishing cleaner into your daily routine, you can enjoy beautifully smooth countertops and showers that smell amazing. Say goodbye to rough surfaces and hello to a fresh, clean finish with Liquid Smooth.
Revitalize your epoxy projects with our premium Stone Coat Polishing Compound. This meticulously crafted compound is designed to eliminate micro-scratches and bring back the original shine and luster to your creations. Whether you're a woodworker or a DIY enthusiast, our polishing compound is perfect for polishing up wood turning projects as well. Say goodbye to wear and tear and hello to a whole new level of brilliance. Elevate your epoxy projects with the mirror-like shine provided by Stone Coat Polishing Compound. Get yours today!