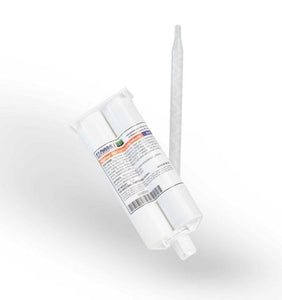 PolyPoxy® 9024 is a color-indicated, fast-set, general-purpose epoxy adhesive. The Resin side of this epoxy has a green color indicator that will turn to a clear amber when properly mixed with the Hardener side. This indicator system promotes fast and efficient mixing of the Resin and Hardener without wasted time in over-mixing. 
Technical Specifications
Mix Ratio by Weight:
1A:1B
Mix Ratio by Volume:
1A:1B
Notes:
BEFORE USE: Thoroughly read Safety Data Sheets, Technical Bulletin, and product labels. WARNING: THE EPOXY CURE REACTION IS VERY EXOTHERMIC - IMPROPER USE OF EPOXY ADHESIVE CAN CAUSE WARPING AND EVEN A FIRE.