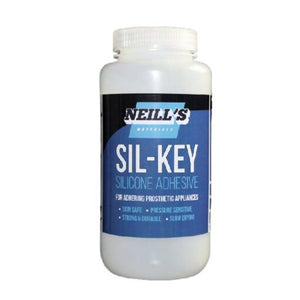 Sil-Key is a fast drying professional adhesive for applying silicone get appliances to an actor or actress. Remove Sil-Key with Vapore remover or other suitable professional removers.
Neill's materials thinners may be used to thin or modify Sil-Key adhesive. 
Sil-Key is a high strength, high solids and pressure sensitive silicone adhesive suspended in an extremely safe cosmetic grade solvent. All components are sources form leading manufacturers ensuring high quality, superbly reliable product that will be sticking around for a very long time.